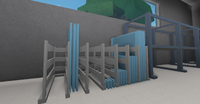 Glass Panes, often referred to as Windows, are translucent structures that can be purchased from Fancy Furnishings. Glass Panes come in five different types, varying in size and use, and also include a Glass Door. The color of the Glass Panes cannot be changed. All glass panels (except Glass Door) were added on August 15, 2015 and Glass Door was added on October 14, 2015.
Usage
The main reason why many players purchase this item is because of its translucence. Glass Panes are similar to Blueprints - They comes in a boxed form, and when purchased and opened, can be placed on a player's Land. All variants of the glass panes share the same thickness, which is relative to the thickness of a tile.
Item Image
Name
Price
(Money)
Size
(studs)
Description
Large Glass Pane
$550
8x0.2x8
"This is serious business glass pane."
Glass Pane
$220
4x0.2x4
"I guess thats why they call it 'glass pane'."
Small Glass Pane
$50
2x0.2x2
"When reasonably sized glass panes don't meet your needs."
Tiny Glass Pane
$12
1x0.2x1
"For all your tiny glass pane needs."
Glass Door
$720
8x0.2x4
"Feeling stylish?"
Bugs/Glitches
Due to the thinness of the Glass Panes and Glass Door, there's a small chance for them to glitch under the counter and get stuck during purchase. Glass may also glitch through the car or ground if it is transported while the ferry or bridge is moving. Some things cannot be seen when looking through Glass, including unfilled blueprints, the text of a Land Sign and the green fog of a Sawmill.
If the player runs onto a large Glass Pane just before picking it up, they may be able to fly due to having picked up both the Pane and themselves standing on it. This might work with other sizes of Pane as well.

Community content is available under
CC-BY-SA
unless otherwise noted.