Lumber Tycoon 2 is a Roblox game created by Defaultio. It is the sequel to the 2008 classic Lumber Tycoon. It had 10,000 online players on the first day of release for several hours. It is one of the top games on Roblox, and it is the game that this wiki is about.
Note: Although the place was created on July 30, 2009, official development of the game began around May 29, 2015.
The main objective of the game is to chop down trees, sell wood, and purchase items and equipment with money. There are vehicles to purchase and the player can buy a sawmill to increase the value of their logs (creating planks) and make them smaller to fit in your truck. There are various types of trees, each with different values and their own unique colors.
The game has controller support as well, being one of the leaders in this innovation.
As of October 9, 2020, Lumber Tycoon 2 had accumulated over 678 million visits with an 87.4% approval rating, along with 3,453,986 favorites! It has since become a very popular game after being introduced to the Xbox One version of Roblox.
On April 15, 2020, Defaultio updated Lumber Tycoon 2 to support mobile gameplay.
Biomes
Biomes are regions on the map that have unique geographical characteristics. A biome can also be defined to have its own music and a tree generation native to the area. There are currently 10 areas on the map that can be classified as a "biome", six of these biomes have some kind of significance.
Significant

Other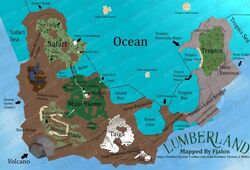 Some biomes have a "sub-biome" area that has a different tree generation, and sometimes even its own native tree; but has the same music track as the biome it resides in. These "sub-biomes" include:

All of these biomes contain at least one or more trees, some of which are native to that area such as the Lava Tree, Palm Tree, and Frost Tree being native to the Volcano, Sand Islands, or the Taiga Peak respectively. All of these trees can be cut down and sold for profit at the Wood Dropoff. Some trees can grow in more than one biome, such as Elm Wood, Oak Wood, and Birch Wood. The only trees to currently ignore biome restrictions are Spook Wood and Sinister Wood, which allows them to grow anywhere including rocks (surface only).
Stores
Currently, there are only seven stores in the game, each selling different items.
Axes
Main article: Axes
A new addition to the game unlike the first game is different axes. There is a total of eighteen different axes, thirteen of which are currently unobtainable unless bought by other players.
Trees & Woods
Main article: Wood
Like the first game, there are various types of trees, however, in Lumber Tycoon 2, there are many more unique types, all with their unique looks and different prices.
Thumbnail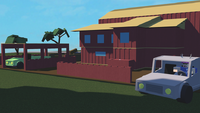 Lumber Tycoon 2 has maintained the same thumbnails from 2015 which depicts a player's base before the Mountainside, Swamp, and Ocean were added. This base belongs to the player EpikYummeh, an early tester of the game and a friend of Defaultio's.
Community content is available under
CC-BY-SA
unless otherwise noted.