Welcome to the Lumber Tycoon 2 Wiki!
The Official Source for Information on Lumber Tycoon 2.
News
Get your news about LT2 and its community here!
Game News
Revert Batch 39: https://pastebin.com/YLJyTY48
Community News
The Wiki's Wobble Event is on!
Thanks for taking part in the 2020 Spook Hunting Season!
The LT2 Wiki has reestablished affiliation with Lumber Chat Discord! Make sure to check out their discord here: https://discord.gg/6fXA5mE
LT2 Discords
Come join our discord and our affiliates


Base Reverts
If you lost your base, please do not build on it and fill out this form. Make sure to read the instructions in the form.

When filling out the "fun fact" question, place the slot number of the wiped slot, as well as the time and date.

Do NOT load the affected slots, as it may cause the revert to be overwritten and irreversible.
Featured Image
"Thanksgiving"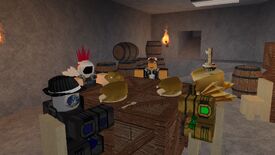 By Xcameranx
Community content is available under
CC-BY-SA
unless otherwise noted.